Mosaic  Flower Pattern Plate, Trivet, Candle Holder, Mosaic Plate, Flower Art,  Dish Shard Art, Great Gift, Housewarming, Mothers Day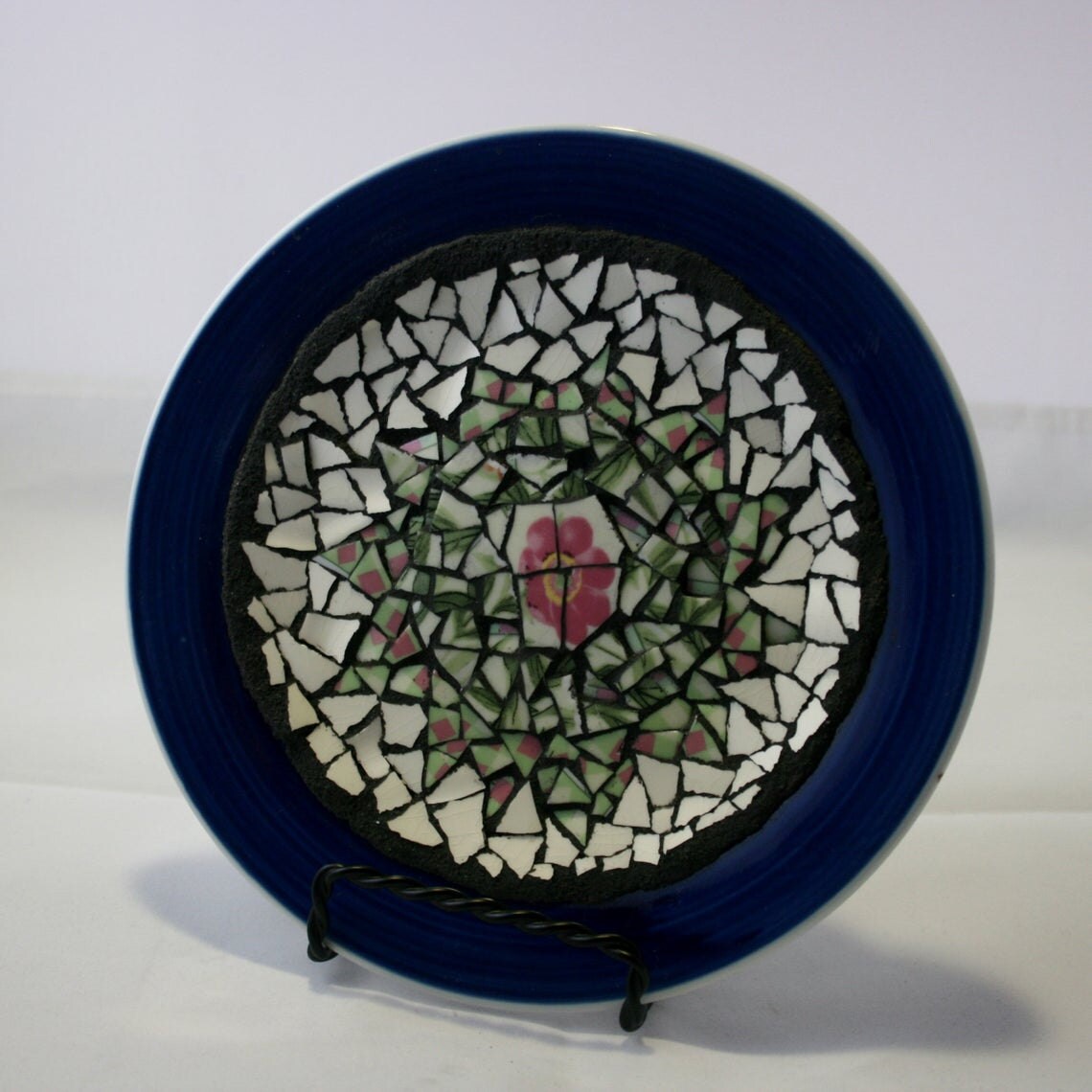 Hand cut dish tiles were used to create a pretty pink and green flower  with an even prettier pink flower in the center, surrounded by white.
This  ordinary plate was once just like all its sisters and brothers ... a  dark blue rim just like all the others. It was used and purposeful, but  it felt it was missing something. It wanted to be something else ... but  what?!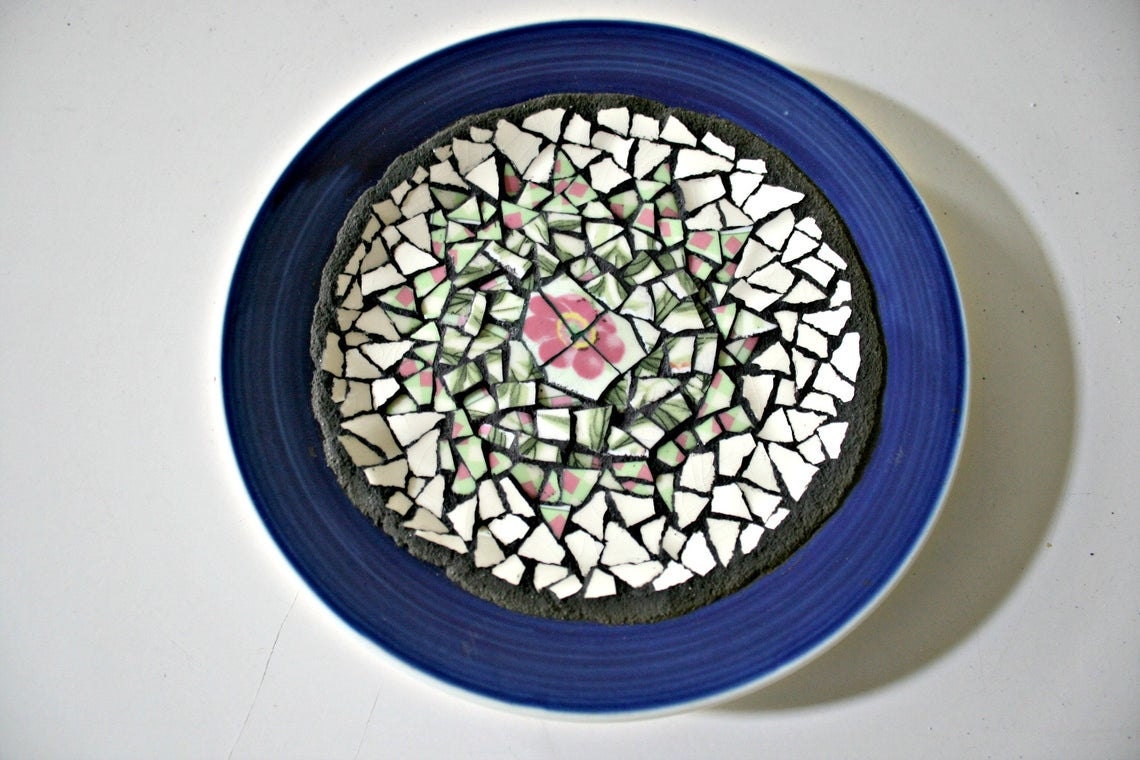 Now this plain old plate has a new purpose: to spread the  joy of handmade mosaic art wherever it goes. Gift it, keep it, it  doesn't matter what you do with it but you must, by all means, enjoy it.  The photos on my website show the work put into the mosaic as a work-in-progress and  as a finished piece of art.
Place this in a stand on a table in  any room in your home. Could be used flat on a table or other surface as  a candle holder, a coaster, a decorative accent. Not recommended for  food.
Do not place in the dishwasher, however, it can be rinsed  in warm water. Wipe with a clean cloth. If you need to use soap, use a  mild one. This is to make sure it won't cause the grout to crack and  chip off.
I love recycling old dull plates and making art with  them. Using a plate that already has a nifty frame around it, as these  plates do, makes it easy and fun to create my mosaic designs. I will  never tire of finding new ways to use old things destined for the trash.
The plate itself measures close to 7 inches, the design inside the plate is about 6-1/2 inches.
Stand included.
Indoor use only.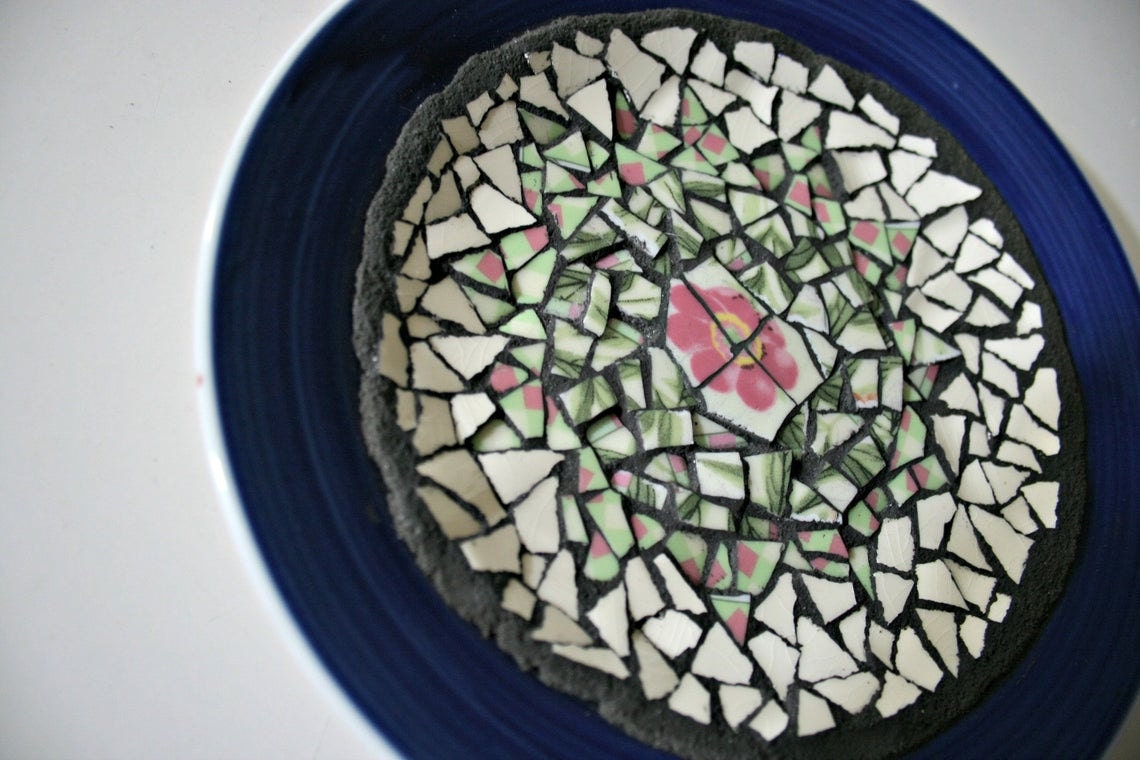 $55.00 USD - FREE SHIPPING (USA ONLY) To see additional photos of this listing and/or to purchase, click on the link at the top of this post. To head on over to my Etsy shop to look around at many more items great for any occasion, click here. This will take you directly to my shop. Enjoy! Support Independent Artisans, Designers and Crafters for your  gift-giving needs all throughout the year. Thank you!~Cindy,  EarthMotherMosaics