What Day? posts are free-forming thoughts and possible things going on in the studio and personally.
Right  now, I'm not creating at all which is fine. I am in flux at the moment,  hoping to share more info within the next month or so. Life is  changing, for the better, but it's too soon to spill the beans just yet!
So,  while I rest and reorganize and recuperate from regular life stuff and  things, I believe I'll share the eclectic array of art from my Etsy shop  for the next month or so. There's enough to share, that's for sure!
Today, I thought I'd share my Bohemian Flower Mosaic Wall Art because it's a favorite of mine and it's kinda cool.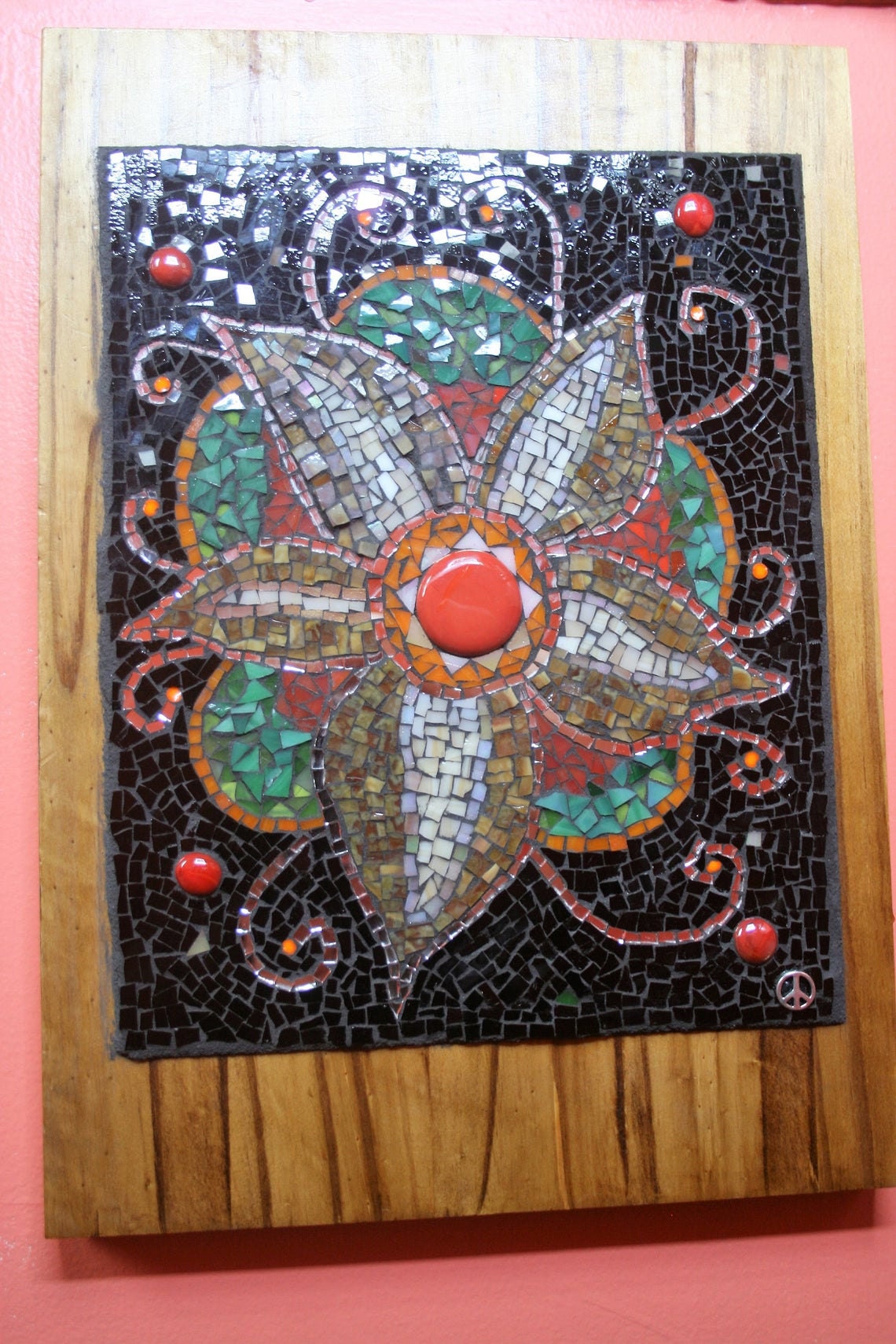 Mosaic Flower, Bohemian style. I took an old MDF shelf heading toward  the recycling bin and drew a flower on it, adding stained glass and  recycled mirror making this groovy piece of mosaic art. The flower has  an orange 1/2 circle in the center, iridescent glass and recycled mirror  highlighting the brown, green, orange and red glass. Pretty pieces of  mirror in swirls attach to the flower. Background is in black with spots  here and there of colors of glass used in the flower. A small peace  sign in the corner is my signature, and I've signed the back and dated  it as well.
The back has 2 D-rings with a wire for easy and  sturdy hanging. 2 felt pads are attached to the bottom to protect your  walls from getting scratched by the MDF wood.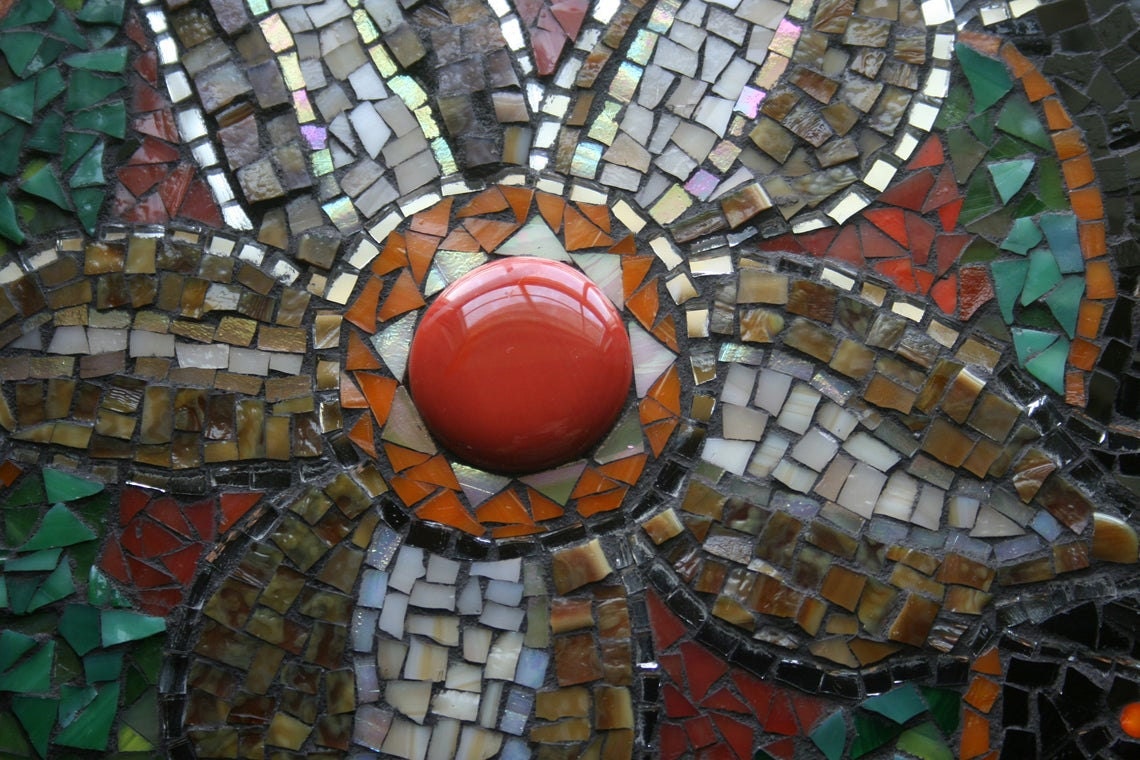 All hand cut  pieces, done at the time of creation, this 11 x 16 inch wall hanging is  quite an impressive addition to anyone's home or office.
I enjoy  taking things headed toward the landfill and creating something unique  with them. Broken pieces of mirror and the shelf itself, were salvaged  and reused.
Indoor use only.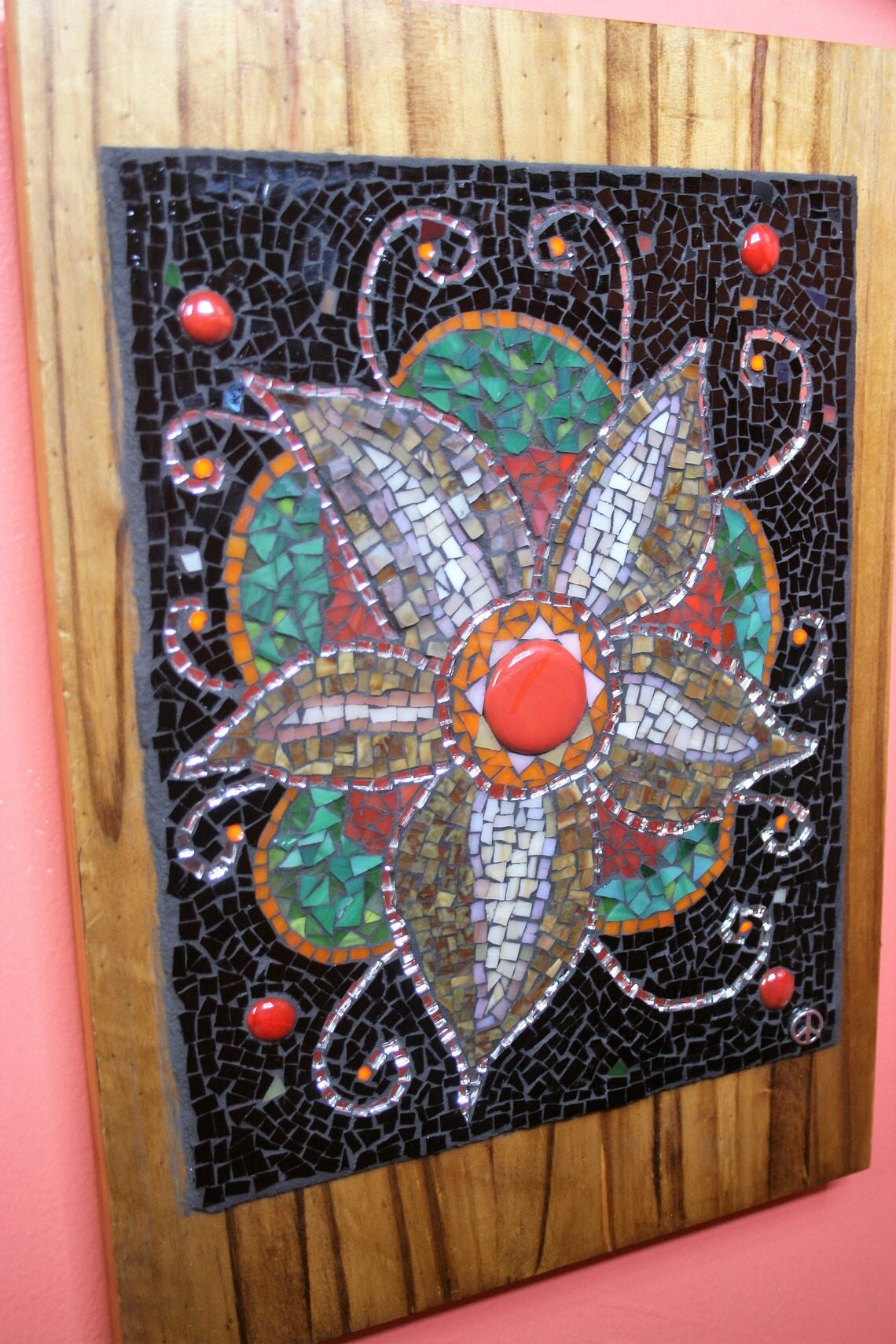 $135.00 USD - FREE SHIPPING (USA ONLY)
To see additional photos of this listing and/or to purchase, click on the link at the top of this post. To head on over to my Etsy shop to look around at many more items great for any occasion, click here. This will take you directly to my shop. Enjoy!
Support Independent Artisans, Designers and Crafters for your  gift-giving needs all throughout the year. Thank you!~Cindy,  EarthMotherMosaics